HAI*QPM software implemented for spray drying optimisation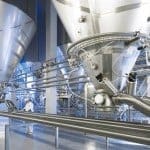 The Netherlands, 24 March 2015 – HAI strengthens its position in the dairy market by implementing its software at an infant nutrition plant. The HAI*QPM software is used to collect data from the production units, including product quality information. The result is a real-time plant information system. This information is used to improve the daily operations and performance of the plant.
Spray drying process for infant nutrition
The Plant Manager, is clear about his motivation for this project: "Spray drying processes for infant nutrition can be challenging in terms of optimising output while securing product quality, minimising energy consumption and preventing unplanned downtimes. This requires a very good understanding of your process capabilities and optimum process settings. The information in HAI*QPM enables our team to make more informed decisions on how to run our processes in the best possible way."
Quicker and better decisions
The Production Manager, is happy to get rid of paper based records for his operators, and have a real-time information system instead: "the information in HAI*QPM helps our operators and teamleaders to make quicker and more informed decisions, and facilitates a quick and thorough batch release and tracking & tracing".
HAI*QPM is built to collect data from multiple production units and sources, which enables the company to have one overall information system for the whole plant, containing information about processing conditions in the Kitchen Process and the Spray Drying Tower together with quality test results of raw materials, intermediates and end products.
Spray drying technology expertise
Part of this project is to connect spray drying data analysis models to the HAI*QPM information system. By connecting these models, developed by NIZO food research (www.nizo.com),  to HAI*QPM, opportunities for process improvement on the spray drying process can be identified. The HAI*QPM software is proven technology in the dairy world, and this is just one of the partnerships re-enforcing HAI's position in the dairy industry.
About HAI*QPM in the Cloud
HAI in The Netherlands (www.hai.nl) is the owner of the HAI*QPM Cloud software, available around the globe in the Fujitsu Cloud and locally supported in more than 20 countries worldwide. HAI*QPM is an Enterprise Manufacturing Intelligence (EMI) solution to help manufacturing companies accelerate operational performance initiatives, drive operating strategies and capture actionable insight in production & quality compliance. Using HAI*QPM, manufacturing teams can create real-time information on Production- & Quality Compliance and Traceability and drive corporate initiatives like Lean, Six Sigma, TPM, and other continuous improvement programs. HAI*QPM has been successsfully implemented at Pepsico, Cosun, Orkla Foods, Elopak, Intertaste, IFF, Yakult and Heinz.
Interested in more best practices of smart use of factory data, especially in the Food Industry?
Get inspired by successes of others when it comes to OEE, quality, positive release, golden batch, CIP-cleaning, operator support, factory data anaytics, in-line measurements, factory dashboards… and much more.
Do not miss it and follow us on LinkedIn: