Elopak rolls out HAI*QPM Smart Factory software in Russia & Canada
Creating Smart Factories, using Cloud Technology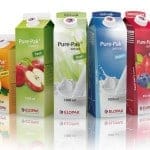 The Netherlands, 14 October 2015 – Elopak, the Norwegian carton packaging manufacturer, has started preparations to roll out the HAI*QPM software in their production facilities in Russia and Canada.  This roll-out was preceded by successful implementations of HAI*QPM at the sites of Elopak and Elocoat in The Netherlands, Germany, Ukraine and Denmark.
Smart Factory
With HAI*QPM, Elopak is on its path to creating Smart Factories, using Cloud Technology to connect production- and quality information from multiple sources, and presenting the data in real-time.
During the manufacturing of Elopak's cartons, many product quality inspections are carried out by operators and QC specialists. In-line measurement systems are connected to HAI*QPM to collect and unlock important production information. Other test results and production records are recorded manually into the HAI*QPM database by operators at the production lines.
By interfacing with process control systems, testing equipment, sensors, and other sources, HAI*QPM can automatically capture data like order numbers, line speed,  production volumes, visual inspection data, etc.
Product excellence
The various data analyses tools within HAI*QPM facilitate process improvement studies at Elopak. Hans-Peter Willems, Manager Quality Development for all Elopak's manufacturing sites, comments: "The information we get from HAI*QPM helps us to better understand and solve our problems, improve our quality and reduce process variances. Ultimately this helps us to achieve product excellence, for the benefit of our customers' packing process performance". And, enthusiastically making another point: "When having an optimum understanding of our production process we are ready for new challenges of more and more complex products".
Software as a Service (SaaS)
The international roll-out of HAI*QPM to the various countries in Europe and Canada requires no additional software installations. System management of HAI*QPM is being done in the Cloud: Elopak sites can simply log in to the application by internet.  HAI is considered an Early Adopter of this SaaS-concept, where customers do not need to bother about installing and maintaining software at each individual site, but instead simply log in to their own protected HAI*QPM dataset in the data centre.
About HAI
HAI in The Netherlands ((www.hai.nl) delivers Enterprise Manufacturing Intelligence (EMI) solutions to help manufacturing companies to accelerate operational performance initiatives, drive operating strategies and capture actionable insight in production & quality compliance. Using HAI*QPM, manufacturing teams can create real-time information on Production- & Quality Compliance and drive corporate initiatives like Lean, Six Sigma, TPM, and other continuous improvement methods. Successful implementations of HAI*QPM have been done at Heinz, Yakult, Orkla Foods, IFF, Intertaste, Van Houtum Paper and Pepsico.
About Elopak
Elopak (www.elopak.com)  is one of the world's leading manufacturers of carton-based packaging solutions for non-carbonated fresh and long-life liquid food products like dairy, juice, soup, water and wine. Nearly 3.000  employees are employed world wide.
Interested in more best practices of smart use of factory data, especially in the Food Industry?
Get inspired by successes of others when it comes to OEE, quality, positive release, golden batch, CIP-cleaning, operator support, factory data anaytics, in-line measurements, factory dashboards… and much more.
Do not miss it and follow us on LinkedIn: