Operators & Lab to work with HAI*QPM SAP Cloud software for Production & Quality
H.J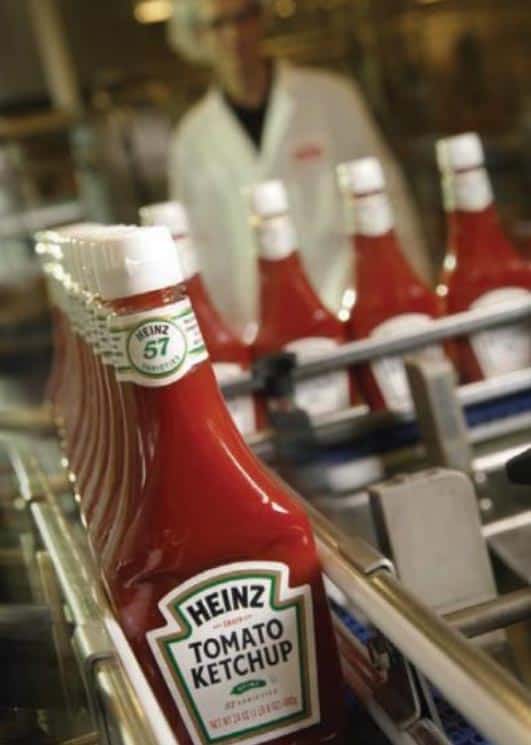 . Heinz in The Netherlands has started the implementation of the HAI*QPM software at their manufacturing facility in Elst. This production site, responsible for the production of Heinz tomato ketchup and sauces for Europe, is equipped with the HAI*QPM software in order to create a digital lab and enable statistical quality and process control in production. Heinz uses the software through internet in the HAI*QPM Cloud at the Fujitsu data centre.
"To do a common thing uncommonly well brings success."   Founder Henry J. Heinz
It goes without saying that the production of ketchup and sauces at Heinz' manufacturing facilities is being controlled strictly, to make sure each bottle of ketchup that leaves the plant lives up to the Heinz standards. With the implementation of the HAI*QPM software, quality and process control is brought even to a higher level. In line with the company's founder Henry J. Heinz's motto, the plant aims "to do a common thing, uncommonly well".
From paper based records to "real-time information" and SPC
Sander Huitink, responsible for Quality, comments: "We used to drown in data and were still hungry for information. If you have all your production and quality test result records on paper or in disparate systems, it is a very time-consuming effort to create reports and analyses, which we need to make improvements on our process. In HAI*QPM, the test results at the production line and in the lab are recorded directly in the database. So HAI*QPM provides us in real-time with production and quality compliance, and reports and analyses are available at one mouse click. Statistical Process Control features help us to further improve our recipes and prevent product quality issues."
Improved "Right First Time" rate
Hans Hendriksen, Site Manager comments: "HAI*QPM empowers our employees to deliver sustainable world-class performance by making improvements to our value chain so we remain a leader in the marketplace. Improving our Right First Time rate is a good example of this. With HAI*QPM we expect a 25% reduction on the number of quarantines, which implies a system payback period  of less than 1 year."
Customization and Interfacing with processing & measurement equipment
The standard HAI*QPM package is enhanced with customised workflow software to support operator product quality control tests. "We have developed a set of rules to automatically calculate corrective actions in case of non-compliant test results", says John van Bolderen, Manager of the Analytical Lab. "ATS Applied Tech Systems  (www.ats-global.com)  turned out to be the best partner for the development of this specific software enhancement, because of their expertise in the domain of shop floor systems, their presence around the globe, and their knowledge of HAI*QPM and system integration."
Global support & SAP Cloud technology
"HAI*QPM is a Cloud solution, developed on the SAP Netweaver Java platform, fitting perfectly in Heinz' corporate SAP strategy", says John Rutten, project leader. "Another important requirement for this project is the availability of global support from HAI and ATS, since this allows us to roll-out the software to other Heinz facilities all over the world." Heinz has chosen to work with the HAI*QPM Cloud at the Fujitsu data centre. Here HAI*QPM is made available for the customers, sourcing the same application and sharing infrastructure and database to gain costs and performance advantages. A key advantage to this cloud solution is that  all data is centralized and accessible over the web from any place at any time, and its use can be extended easily to other Heinz production facilities.
About Heinz
Throughout the world, Heinz is synonymous with ketchup, selling 650 million bottles of Heinz ketchup every year. The H.J. Heinz Company, headquartered in Pittsburgh, Pennsylvania, is the most global of all U.S.-based food companies. Famous for its iconic brands on six continents, Heinz provides delicious, nutritious and convenient foods for families in 200 countries around the world. In more than 50 of those countries, Heinz enjoys the number-one or number-two market position.
About HAI, ATS & Newitera
HAI in The Netherlands (www.hai.nl) is the owner of the HAI*QPM Cloud software, an Enterprise Manufacturing Intelligence (EMI) solution to help manufacturing companies accelerate operational performance initiatives, drive operating strategies and capture actionable insight in production & quality compliance. Using HAI*QPM, manufacturing teams can create real-time information on Production- & Quality Compliance and Traceability and drive corporate initiatives like Lean, Six Sigma, TPM, and other continuous improvement methods. ATS offers solutions in the domain of Industrial Automation, with specific expertise in the area of OEE and MES. ATS is global distributor for HAI*QPM. Newitera (www.newitera.nl) is responsible for system management of the HAI*QPM Cloud.
HAI*QPM is successfully implemented at Pepsico, Aviko/Cosun, Elopak, Intertaste, IFF and Yakult.
Interested in more best practices of smart use of factory data, especially in the Food Industry?
Get inspired by successes of others when it comes to OEE, quality, positive release, golden batch, CIP-cleaning, operator support, factory data anaytics, in-line measurements, factory dashboards… and much more.
Do not miss it and follow us on LinkedIn: