All-in-One powerful Dashboards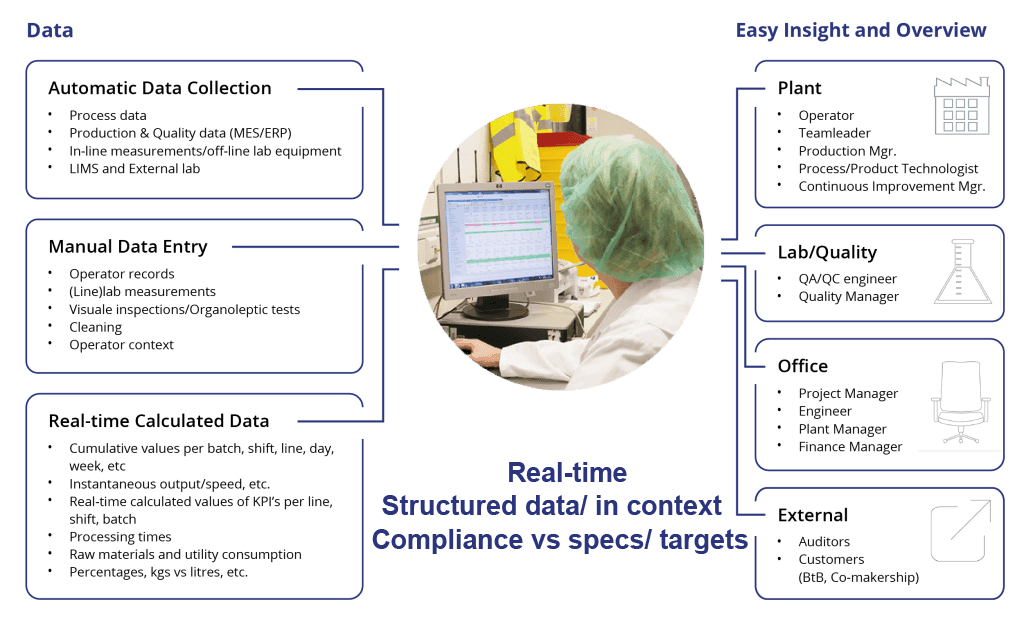 Process data
Production & Quality data (MES/ERP)
In-line measurements/off-line lab equipment
LIMS and External lab
Operator records
(Line)lab measurements
Visuale inspections/Organoleptic tests
Cleaning
Operator context
Cumulative values per batch, shift, line, etc
Instantaneous output/speed, etc.
Real-time calculated values of KPI's per line, shift, batch
Processing times
Raw materials and utility consumption
Percentages, kgs vs litres, etc.
Easy Insight and Overview
HAI smart4industries All-in-One Dashboards
View production and quality compliance in real-time, together with your company KPI's. Operators, production and quality managers make informed decisions on the spot. Always one step ahead, dealing with issues before they can escalate into a real problem.
Process technologists analyze production and quality data with a few clicks. Identifying opportunities for improvement. Management has a clear view on plant capabilities and financial impacts. Those involved in production and quality control work more effectively with the HAI all-in-one dashboards.
Data from multiple sources is shown in an easy and structured way. Complex matters now become easy and straightforward. No more decisions based on assumptions, nor time-consuming Excel analytics. Instead: well-informed data-driven decisions, one mouse click away.