Your own Smart Factory App

Smart Factories: the future is NOW!
Ever since factories came into existence, people have continuously strived to find ways to improve the performance of their factories. This has now become easier than ever with the software from HAI.
Our customers have succeeded to increase output on for instance production of cheese or sauces, thanks to a better control of dry matter content. They decrease downtimes on packing lines by identifying and solving the main reasons for downtime. They decrease the duration of production batches by closely monitoring the current batch against the golden batch. They actually reduce the amount  of rejected batches by implementing real-time trending and SPC-alarms (statistical process control). They improve product quality consistency through a better understanding of their processes. They improve their process of upscaling newly developed products from R&D to production scale. They achieve this through a better analysis and understanding of their process capabilities. In short: they save money by implementing smart technologies.
This starts with a robust system for plant data collection along with other relevant data, coming from product quality test instruments, manually entered visual inspection data, etc. The capability of real-time monitoring of these data and matching them against specifications or KPI's enables real-time preventive corrective actions.
Even more powerful are the smart factory apps: the models that support plant personnel to reduce complex matters to straight forward decision making.
A wide variety of smart factory applications can be implemented in industrial batch- or continuous-processes.
Plant data collection
Real-time dashboard
Real-time monitoring
SAS analysis platform
Benefits:
Proven technology
Powerful platform
Limited custom development
Infrastructure ready to use
Subscription-based pricing
Benefits:
Rapid & Simple
Cost-effective
Fits in any architecture
>20 years experience in
(food) Processing
Information systems
and analytics
Benefits:
An understanding of
industirial processing
is vital for development
of succesful applications
Smart Factory Apps: Objectives & Tooling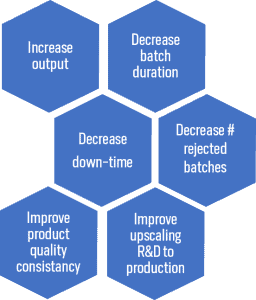 Plant (big) data collection & (multivariate)
diagnostic tools/models
Secure current & future proces know-how
(process model, specs golden batch, etc.)
Create real-time monitoring for operators
New insights for process / product
improvements
Predictive analytics support operator
decisions
….