Simple answers to Complex Questions
Hidden insights into your production or supply chain
HAI smart4industries Platform


Data intelligence for Smart Factories
More and more companies become aware that data intelligence is key in solving challenges of today and the future. Either within their own factory (Smart Factory or Industry 4.0), or within their supply chains, or even in a wider perspective.
Ready-to-use, short lead times and lower costs
The HAI smart4industries platform is a ready-to-use cloud platform, empowered by experts in data collection, data analysis and industry-specific interpretation.
This enables companies to implement data intelligence activities, executed by experts in short lead times and avoiding high up-front investments in hardware and software.
A tool to make complex matters simple, with the help of data-analysis
Data-driven decisions, with metrics that matter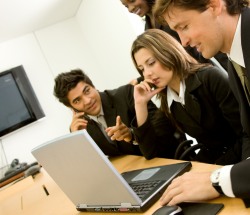 The information will help you:
To understand how to improve your supply chain
To understand how to improve your production process
To identify (quality) risks
to improve your services to your customers
to improve your products
to monitor compliance and changes
to benchmark suppliers and customers
etc.
You tell us what you want to find out
We translate your question into a data analysis model
We set up a system for data collection in the cloud
We perform the analyses in the cloud
We visualize the results, and reveal the insights you need
   Why partner with Smart4Industries
A ready-to-use Cloud Analysis platform (based on SAS software)
Proven track-record in industries
Experienced data analysis experts
Experienced data collection & IT experts
Cloud Services: reduce complexity and reduce investments
 

Simply available in the Cloud … No capital investment … Subscription-based