Elopak drives product quality with HAI software
"If operators intervene only when product quality is out of spec, they are simply too late. Our operators should identify that the process is going off track at a much earlier stage. Then they can take preventive action to avoid failures."
Elopak in Terneuzen got to work based on this idea to help operators identify emerging anomalies at an early stage. To this end, they successfully introduced a new operator dashboard from HAI. An operator dashboard with real-time product quality trending.
And this turns out to be only the beginning. For this success tastes like more. And it stimulates to explore other opportunities to work smarter with factory data. An inspiring example of how to implement a "digital factory".
Hans-Peter Willems and Michael Vermaat from Elopak in Terneuzen share their experiences and ideas.
Real-time trending dashboards
Hans-Peter Willems is Manager Quality Development at Elopak: a leading Norwegian global supplier of carton packaging and filling equipment for liquid food. Elopak operates with ten factories across many countries. Their carton packaging may contain for instance milk or fresh juice.
Hans-Peter has a global responsibility to advance development of quality systems. To this end, Elopak works with the software from HAI for product- and process control. It concerns Elopak factories in The Netherlands, Denmark, Russia, Canada and Ukraine. It was Hans-Peter who took the initiative to co-operate with HAI to develop the real-time trending dashboards for operators.
How much technology does it take to produce drink cartons for aseptic or cool drinks? "There's a lot more to it than meets the eye", says Michael Vermaat, an experienced Quality Development Engineer in Hans-Peter's international team. Michael played a key role in the practical introduction of the HAI trending dashboards for operators.
Michael explains that small deviations in the production of drink cartons may lead to serious quality issues. Their main concern is: food safety. Not only should the cartons be liquid-tight to prevent leaking, they should foremost be gas-tight. For, if oxygen- or bacteria-entry is possible, then the carton contents may deteriorate. So food safety is a top priority. Reason enough for Elopak to closely monitor their production. This is reflected in frequent measurement of seal strength and dimensions, and vision systems that continuously perform visual inspections. All those measurements generate data.
Ultimately, the key to the solution was found in the use of these data to help Elopak operators to identify anomalies before they occur.
Specification-limits alone were not sufficient
Until recently, quality control at Elopak was mainly done by checking the compliance of each individual measurement with its specifications. To this end, they make a distinction between three levels.
The best score is "within spec". This means that the measurement value is within specification limits, and within the natural variance of the production process. Next to this, they identify so-called "out of control" values. Although these values are within the specification limits, they are outside the range for the normal process variance. This means that the operator should adjust the process.
The third level is "out-of-spec". This means that you are simply too late. After all, with out-of-spec values the product will be rejected.
Example of a stable process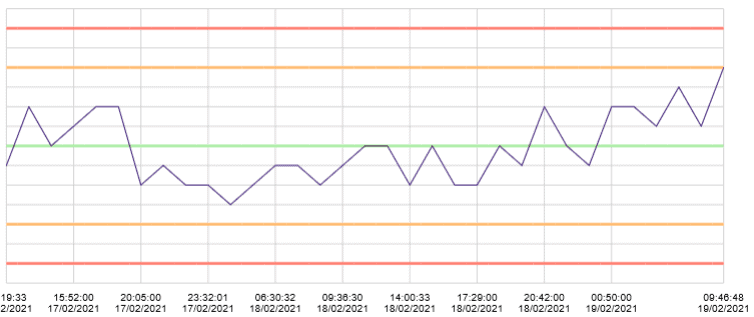 Example of a process that tends to go out of control
The solution: real-time trending
This system with specifications works well, but with a high production speed operators have limited time to adjust  the process. Indeed, operators may often act too late. Preferably, the operator should have an early warning system. An early warning system that indicates when a process is at risk of going out of control. This leaves more time for the operator to adjust the process in time. The solution for this is: trending. Real-time trending of recent and actual test results during production. Intuitively, the operator will understand when the process needs adjustment. This allows operators to work proactively instead of reactively.
"Better control with better results", Hans-Peter laughs.
Operators to monitor trending continuously
The devil is in the detail. That was once again demonstrated when Elopak initially tested the dashboards at the factory shop floor. "It is of vital importance that operators continuously monitor the most important trend graphs ", Michael explains. Yet, this wasn't easy, since the operators needed to enter quality test results in the very same system. And they did not want to add an extra computer screen at the production line.
"We solved this by introducing an extra feature: a few seconds after an operator has entered test results, the trending dashboard appears again automatically, including a real-time refresh.
"This is how we want to make it as easy as possible for our operators", Michael emphasizes. And indeed, he did a pretty good job. Since at the final introduction of the dashboards at the factory shopfloor, operators intuitively used the dashboards as anticipated.
Michael: "it all seems pretty obvious. That's the power of good visualizations: a picture says more than a thousand words."
Yet, this is only a first step. The ultimate goal is to become more data driven in all aspects of production. With everyone on Elopak's factory shop floor using data and trending  to better understand how to influence production and quality performance. Operators and engineers understand their production line like no other. They therefore have the main role in understanding what the data is telling them.
Of course this involves not only quality data. It also requires data about processing conditions. It is precisely the combination of these two that leads to new insights. This way they can learn a lot from historical data.
Looking back is valuable, looking ahead even more so. Elopak is already working on the next step in the field of machine learning, in order to predict what will happen on the basis of data.
Michael: "We are also discussing this subject of machine learning with HAI. About how they can support us in this. HAI is a partner open to innovation, and strong in applying data analytics."
Interested in more best practices of smart use of factory data?
Get inspired by the successes of others when it comes to real-time monitoring of quality and production data, OEE, positive release, golden batch, CIP-cleaning, operator support, factory data anaytics, in-line measurements, factory dashboards… and much more.
Do not miss it and follow us on LinkedIn: