De Zuivelhoeve: Dutch dairy with HAI*QPM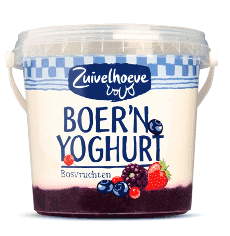 De Zuivelhoeve, a Dutch Dairy company, implemented the HAI*QPM software to create a paperless production environment and real-time information on production and quality. The HAI*QPM software is used "in the HAI*QPM Cloud at the Fujitsu data centre.
Transparency in production and quality
The HAI*QPM software has replaced a great deal of paper work to record quality control and production data during the manufacturing process. Next step is to connect HAI*QPM to the process control systems, to automatically collect process data, like process settings, runtimes, temperatures, weights, etc.
Henny van Gennip, Operations Director at de Zuivelhoeve, says: "this project helps us to improve plant- & quality information needed for batch release, OEE improvement, weight optimisation and other plant optimisation opportunities. Rianne Bil, Quality Manager adds: "now, we all have a real-time view on quality and production compliance against specifications. Consequently, any non-conformance in product quality or process conditions, is immediately visible."
For Joost Winkelhorst, CFO at de Zuivelhoeve, the HAI*QPM implementation is the imminent fulfilment of a longstanding desire to have a good shop floor information system connected to the existing M3 ERP system. A wide range of ready-to-use production and quality reports, powerful performance metrics and statistics are directly available in HAI*QPM. The administrative burden of operators at the production line can be reduced substantially and shop floor transparency improved.
Cloud benefits
From a technical point of view, HAI*QPM is unique, since it is a true cloud solution. "It took 5 minutes to make HAI*QPM available for de Zuivelhoeve, and we could immediately start using the software" says Sebastiaan Ekkelkamp, IT Manager at de Zuivelhoeve, "No need for a local server and installation of the software, nor do we have to take care of maintenance or system management". We benefit from the ease of use from the HAI*QPM Cloud at the Fujitsu data centre, sourcing the same application and sharing infrastructure and database to gain costs and performance advantages. A key advantage to this cloud solution is that  all data is centralized and accessible over the web from any place at any time.
About de Zuivelhoeve
De Zuivelhoeve (www.zuivelhoeve.nl), a Dutch dairy producer, known for its outstanding "yoghurt in a bucket" has 2 manufacturing facilities.  Recently, De Zuivelhoeve won the Food Top Award for a new product introduction, a cream cheese called "HEKS'NKAAS®". HAI in The Netherlands (www.hai.nl) delivers Enterprise Manufacturing Intelligence (EMI) solutions to help manufacturing companies to accelerate operational performance initiatives, drive operating strategies and capture actionable insight in production & quality compliance. Using HAI*QPM, manufacturing teams can create real-time information on Production- & Quality Compliance and drive corporate initiatives like Lean, Six Sigma, TPM, and other continuous improvement methods. HAI*QPM is successfully implemented in Europe at Orkla Foods, Pepsico, Cosun, Elopak, Heinz and Yakult.
Interested in more best practices of smart use of factory data, especially in the Food Industry?
Get inspired by successes of others when it comes to OEE, quality, positive release, golden batch, CIP-cleaning, operator support, factory data anaytics, in-line measurements, factory dashboards… and much more.
Do not miss it and follow us on LinkedIn: