Environmental monitoring: the canary in the coal mine at a milk powder factory
Operations Manager Harry Higgens had things well under control in that brand-new dairy plant. Until that day in spring. He remembers having seen the first apple trees in bloom that morning, on his way to the factory. In a good mood, he parked his car next to the shiny stainless steel of the milk tanks. Then his cell phone rang…
From that moment on, everything is turned upside down. There appears to be an outbreak of Salmonella Agona infections among babies and children. And the trail leads back to their infant formula production facilities. Production is shut down immediately, and Harry gets busy. Very busy indeed. Together with the crisis team, he sets to work. To determine which production batches could possibly be contaminated. And they activate recall procedures. He gets professional support for crisis communication with the authorities and the press.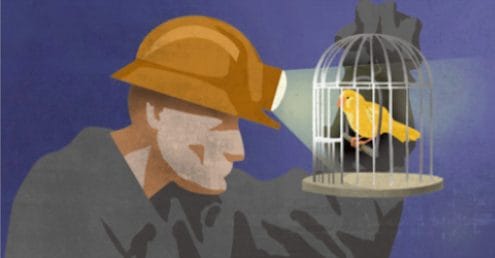 Environmental monitoring: the canary in the coal mine at a milkpowder factory
How on earth has this contamination gone unnoticed?
Thanks to their detailed business administration, they quickly identify where the potentially contaminated production batches have gone. And they start a massive recall action. At the same time, the investigation has begun to examine the plant from back to front and from top to bottom. After all, they need to detect possible sources of the contamination. And they get to work on microbiological test results from last year's production runs. "How on earth has this gone unnoticed?" is the main question, that concerns Harry and his team. Until the root cause has been identified, it is out of the question that the plant resumes production.
It soon becomes clear that environmental samples from the plant have previously indicated microbiological contamination. However, no contamination was detected in the milk powder at the end-product control. So, they mistakenly thought  the product was safe. Small design faults and a faulty cleaning procedure appear to have made possible the microbiological contamination. However, with dry products such as milk powder, it is virtually impossible to take samples that safely represent the entire batch. And so it could happen that contaminated products were approved and released to the market….
Environmental monitoring: the canary in the coal mine
So you may conclude that Harry did not have everyting well under control. At least not as well as he had thought.
The environmental samples were the canary in the coal mine in this case.
And if he and his team had reacted appropriately to the test results of the environmental samples, they could have avoided this whole situation.
However, it is too easy to blame them for not having a sufficient overview of all quality related measurements.
The factory quality-related data is spread over different applications and databases. They record raw material quality and finished product test results in their business administration database. The in-process checks of operators are in excel sheets. The microbiological measurements are in a separate file from the external lab, and they have to look up the processing conditions in the process control systems.
So… how do you get an overview of that?
When you have all the factory data conveniently together in one database, you have a good overview of all information which is important for food safety and product quality. Also, this database allows you to keep a close eye on the relationship between those measurements, and the developments over time.
For example, the relationship between environmental samples and the cleaning (CIP) frequency. Or the trend development of the results of environmental monitoring in connection with the end-product inspections. A good factory database with handy dashboards and analyses quickly give you the insights you need for this. If only Harry and his team would have had such an information system for their plant…
When Harry was finally allowed to restart production, the blossom had already given way to small apples. It had been an expensive lesson.
So look beyond the shiny stainless steel of a factory. A smart organization of your factory data may not be as sexy, but it is of vital importance!
Read more about the HAI software for spray drying, and in the dairy industry.
Interested in more stories about smart use of factory data?
Get inspired by the successes of others when it comes to real-time monitoring of quality and production data, OEE, positive release, golden batch, CIP-cleaning, operator support, factory data anaytics, in-line measurements, factory dashboards… and much more.
Do not miss it and follow us on LinkedIn: